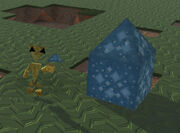 A Plunger allows the player to detonate Trigger Bombs and launch Trigger Rocket Bombs remotely.
A plunger is built by putting a Moonstone pyramid on top of a moonstone cube.
Breaking a plunger will cause nearby Trigger Bombs to detonate. Regardless of which part of the plunger the laser is pointed at, the pyramid will break apart first.
Explosives

Bombs
Tools

Plunger