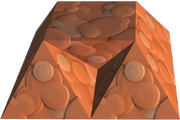 Kiln is a crafting station that is built out of clay.  Five pyramids and three tetrahedrons make up the kiln (see gallery for an idea of how the blocks are placed).
Kiln can be stoked by placing a tetrahedron of coralwood, limewood, or spinewood into the opening of the kiln, which can be fueled by multiple blocks of wood at a time. Two substances can be crafted per block of wood. Substances and wood, both of different types, can be queued as well as placed in any order. White smoke is emitted for each block that is done crafting. Finished substances that were queued can all be harvested at once.
Ad blocker interference detected!
Wikia is a free-to-use site that makes money from advertising. We have a modified experience for viewers using ad blockers

Wikia is not accessible if you've made further modifications. Remove the custom ad blocker rule(s) and the page will load as expected.